Dewry DuRoi Bradford's Bio:
| | |
| --- | --- |
| | Founder of these brands: |
| | |
FASHION DESIGNER:
Entering his 23rd year in Fashion, Dewry DuRoi Bradford sets out to establish the Pursuing Purpose Program as a robust service offering to Youth within New York City in the field of fashion & design. Interning for Russell Simmons in 1999, he went on to become Design Director for companies such as Phat Farm, Sean John, Ecko International, G-Unit and Steve Madden Outerwear. He's designed collections for Timberland, Puma Kids, Marvel, Outkast, Nelson Mandela, J-Lo, Jay-Z, Fabolous, Def Jam, Michael Vick, Chinese Laundry, Richie Rich and Vinnie from Naughty by Nature to name a few.
As a creative Brooklyn native and former F.I.T. Menswear student, Dewry DuRoi goes back to his roots to help discover and train the next generation of Fashion Industry professionals. Understanding the creative nature of inner-city Youth in the 5-boroughs, he galvanized his relationships and resources to create a fashion incubator for major fashion colleges and design firms in NYC. During this 2-year program, High School students will learn the core basics of sketching, sewing, draping, graphics and technical packages. In addition, they will learn how to express themselves through creativity, while learning the business of fashion. What sets our program apart from other ATI programs, is that we allow Youth to earn as they learn. Once the program is complete, they will leave with a fully built portfolio; 2-apparel collections under the company's 2-brands: HealthJox Apparel & CorDuRoi Apparel; bankable skills & experience; money in their account; and an entire multi-billion-dollar industry ahead of them to explore and conquer. We will foster the new generation of creative Gen-Z's!
CorDuRoi Apparel - Manufacturing
HealthJox Apparel - Manufacturing
BRANDING DIRECTOR:
Under the ASQUI LLC umbrella, which later became ASQUI Ventures, Mr. Bradford cultivated many brands and launched new collections annually. He repurposed his knowledge, skills and relationships to manage celebrities from a branding aspect. Mr. Bradford's past clients include Marvel – The Avengers, UFC, Alice + Olivia, Heatherette, Popluxe and BET's 106&Park just to name a few. During Mr. Bradford's time as head designer of Sean John, Sean "Diddy" Combs received the CFDA Men's designer of the year award for his Sean John Collection.
As a visionary and creative, Mr. Bradford, through ASQUI Ventures, forges strategic partnerships with existing fashion brands such as Fourfront, One Wonder and Design & Co; Concert Promotion and Branding such as Central America Branding, International Branding Cartel and 180 South Group in 2016.
In a move to expand his coffee business, Mark Sutton partnered with fashion designer and branding expert, Dewry Bradford – owner of New York-based ASQUI Ventures who connected L7BC to Phase-2 of their enterprising plans to launch Lucky 7 Coffee Brand's "Coney Island Salt Water Roast" coffee towards the end of Summer 2016. Using the same sand-roasting method created by Chef Chardon in Atlantic City, Dewry will now take the sand from Coney Island and roast the Cameroon Coffee Bean - launching L7BC's new branded signature coffee "Coney Island Salt Water Roast" in honor of Coney Island's illustrious history catering to the people. The team is also establishing a brick and mortar on the boardwalk. In 2017, Chef Chardon became the "HempStar Chef" and began creating various BBQ Sauce falvors with Dewry as the branding director. In 2020, Mark and Dewry branded their own CBD alkaline water called Cannaline. From there, they added flavored water to their list of products.
Creatives Cartel - CorDuRoi Introduction
MISSIONARY LOCALLY:
Dewry DuRoi has dedicated his professional life, honing his skills while continually expanding his knowledge of this ever-changing fashion industry. This process has enabled him to train, motivate and inspire others by providing creative and technical direction to those he's managed in the past.
Created by Bishop, Dr. Lester Bradford of Exousia Cathedral, "Brownsville Shines" is an annual event servicing the community of Brownsville, Brooklyn in the holiday spirit of friends, family, hot chocolate and Christmas carols. We continue the tradition of actually lighting the Christmas tree... but this year we are expanding our community offering. Through our partners, we will offer free toys, free treats, free canned & dry goods. We are offering free phones and $10 tablets complete with 6-months of free service for the first 100 participants on public assistance. HealthJox Foundation partners with Exousia each year to service the Community of Brownsville.
Dewry DuRoi Receives the "I Love NY" Award
MISSIONARY ABROAD:
Mr. Bradford, through his relationship with his home church "Exousia Cathedral" and the Missionary Bishop of Pilgrim Assemblies: Bishop Lestor Bradford, he began missionary work in Antigua, Jamaica, Costa Rica, Haiti and Africa. Mr. Bradford is the senior editor of the Missionary Magazine called "The Enlightener" which documents all of their work abroad. Through Dr. Henri - founder of IHOM.org, he connected with the "Artist Village" which gave him access to talented artists in the Haitian region.
During Dewry Bradford's missionary trip to Antigua - 2019, his Bishop and Father was asked to represent Christianity during Parliament to address the local Corporations wanting to do away with Sundays as a sacred holiday weekly. This caused Missionary Bishop Lester Bradford to launch the "North American Clergy Council of Antigua and Barbuda". This organization will focus on certain moral judgments within the legislations in government of Antigua & Barbuda.
Dewry DuRoi - Antigua Missions Trip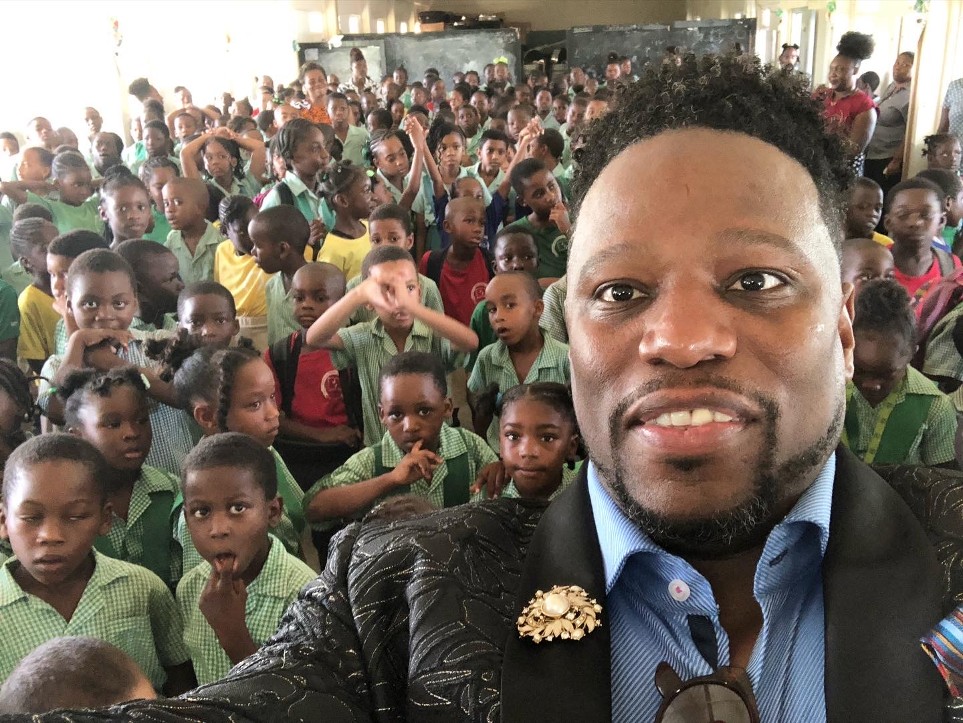 Dewry DuRoi - Haiti Missions Trip
Dewry DuRoi Handing Out Technology - Antigua Missions Trip