Energy Kings Live Owners

Kevin "KevKonnect" Logan - Coordinator
Kevin Charles Logan has a Bachelor's degree from Curry College in Communications. He started his career working for television giant Viacom. Kevin for 10 plusyearsshared his talents at Viacom's BET Network. In those years Kevin mastered the "art of people" becoming the ultimate customer service professional. He traveled the country assisting in the productions of the "106&Park", "Rip The Runway Fashion shows", "Spring Bling", "Black Girls Rock", the "Soul Train Awards," "The Bobby Jones Gospel Specials"and "BET Awards shows" just to name a few. These experiences led to his alias "Kev-Konnect" connecting people to fabulous events. Kevin parlayed these career opportunities into a prime demographic influencing over 200,000 young people ages 16-25." Currently he is freelancing with various television networks and giving back to the community via the "Open Door Art's in Education Project" as Creative Director. Kevin's newest passion is the 'One Breath Transformation' coaching platform headed by Coach Ted Gustus. As with all the projects he is involved with Kevin brings his consummate brand marketing, customer relations, and production and networking skills. Community is Kevin's passion. He is teamed with the "Smarter Foundation "teaching better health, better fitness, food education and business as a lifestyle.
Outreach Coordinator: building your brands , Nationally companies , products, and events. Etc. Kevkonnect provides the following services: *Community events:(Nationally); *Street team:(Gorilla Marketing); *Casting:(Video/Promotional); *Audience Coordinating:(Venue); *Promotion:(Production, Service, Event); *School tours:(Public schools/ Colleges); *Focus groups:(Knowing the target market); *Talent Scout:(Showcase/Events); *Artist Development:(Polishing Talent); *Content Creator:(selling ideas to brands)
Dewry "DuRoi" Bradford - Branding Director
In 1999, Dewry L. Bradford set out to pursue a career in fashion. After attending the prestigious Fashion Institute of Technology (F.I.T) in New York City, he officially launched his career in fashion. His very first collection was for the famed music group Wu-Tang which he created and developed their brand "Wu-Wear" with then creative designer, Kevin Leong. From there, he created and designed collections for various celebrities such as Outkast, J-Lo, Nelson Mandela, Sean "Diddy" Combs, Jay-Z, Fabolous, Michael Vick, Richie Rich, Vinnie from Naughty by Nature and Russell Simmons. Mr. Bradford enjoyed years of success in lifestyle-outerwear as Creative Director of Sean John, Ecko International, Steve Madden and Phat Farm. In 2005, after head designing for a number of brands, Mr. Bradford launched ASQUI LLC that became the force behind many of the ready to wear collections today. Quickly making a favorable stamp in the Fashion Industry as an expert Outerwear and Leather Designer, Dewry set his sights on the Athletic aspect of the Fashion Industry. He acquired deals with conglomerates such as Americo/Highlife to manage the K1X, And-1, Protégé' and Michael Vick brands. Underneath the Pirigi Group, he designed for Puma Kids. Mr. Bradford was notably chosen in 2012 to present a collection of new directional designs to Brand Jordan's executive team in Portland, Oregon.
Under the ASQUI LLC umbrella, which later became ASQUI Ventures, Mr. Bradford cultivated many brands and launched new collections annually. He repurposed his knowledge, skills and relationships to manage celebrities from a branding aspect. Mr. Bradford's past clients include Marvel – The Avengers, UFC, Alice + Olivia, Heatherette, Popluxe and BET's 106&Park just to name a few. During Mr. Bradford's time as head designer of Sean John, Sean "Diddy" Combs received the CFDA Men's designer of the year award for his Sean John Collection. As a visionary and creative, Mr. Bradford, through ASQUI Ventures and Creative's Cartel, forges strategic partnerships with existing fashion brands such as Fourfront, iLLionaire Society, One Wonder and Design & Co; Concert Promotion and Branding such as Central America Branding, International Branding Cartel and 180 South Group in 2016.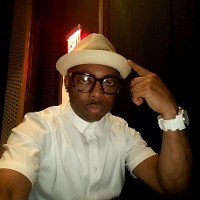 Anthony Gray - Marketing & Promotions Director
Anthony Gray is a highly motivated professional that specializes in strategic marketing plans for 21st century consumers. He has 6 years plus of practical hands on experience as a marketer and manager producing results for clients. He assembled a marketing team that assisted in the gorilla marketing campaign for Harlem's current district leader Cordell Clear that lead to winning 70% of the vote in her district of Harlem NYC. With his charismatic style and approachability he received appreciation from the Lenoir youth development center for his participation in the 2017-18 speaking series for his outstanding contribution.